Description
DATA SHEET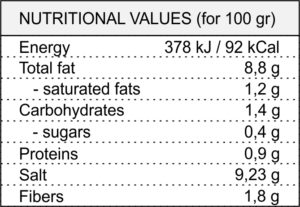 INGREDIENTS: carrots, fennel, celery, cucumbers, turnip, peppers, artichokes, mushrooms, olives,  oil (of which extra virgin olive oil 80%, sunflower oil 20%), vinegar, salt.
FORMATS: tubs of 500 gr – 2 kg;   jar of 300 gr – 580 gr.
SHELF-LIFE: 24 months.
Store in a cool place; after opening, store in the fridge.