Description
DATA SHEET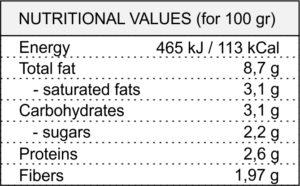 INGREDIENTS: wild fennel 75%, tomato sauce 10%, onion 6%, anchovies 4%, extra virgin olive oil 3%, pine nuts 2%, salt and black pepper.
FORMATS: jar of 212 gr.
SHELF-LIFE: 24 months.
Caught in the sea with pick and encircling nets. Fishing area: FAO 34.1.11
Store in a cool place; after opening, store in the fridge.