Description
DATA SHEET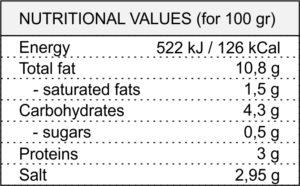 INGREDIENTS: chilli 49%, oil 25% (of which extra virgin olive oil 80%, sunflower oil 20%), olives 15%, capers 8%, anchovies 3%, vinegar, salt.
FORMATS: jar of 300 gr.
SHELF-LIFE: 24 months.
Caught in the sea with pick and encircling nets. Fishing area: FAO 34.1.11
It may contain traces of hazel.
Store in a cool place; after opening, store in the fridge.